2020-2021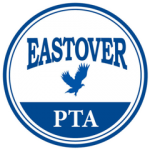 PTA MEMBERSHIP FORM
For Parents, Teachers, and Family Members of Eastover Students
Why should you join?
It's good for our students and important for our school! You'll make a difference in our school and connect with other parents and teachers. You must be a PTA member to vote on our Eastover PTA Annual Budget. Your opinion in school issues matters, and we want to hear it! Join today to make sure your voice is heard!
Who should join?
Everyone is welcome…calling all parents, teachers, and extended family!
Please remember that you must renew your membership each year!

How do you join?
Joining is easy! We encourage you to register and pay your dues online. Please go to: https://eastover-elementary-pta-membership-dues-copy-94569.cheddarup.com
Cost is $6 per individual or $12 per family.
*Online registration is preferred at this time*
Paper forms will be accepted. Please complete this form, and make checks payable to Eastover PTA. You can mail a completed form & check to 500 Cherokee Road, Clt, NC 28204.
No need to return this form if you use the link to register online!

Stay informed, stay connected, and join the PTA today!
Any questions? Contact Erin Kehoe
Parent 1                                                                      Parent 2
Name                                                                          Name                                                             
Email                                                                          Email                                                              
Phone                                                                         Phone                                                             
Deadline to join is September 30!