EASTOVER'S SUMMER OF ACADEMIC READINESS PROGRAM
SOARing to New Heights this Summer!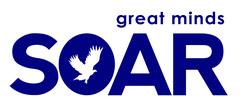 Eastover's summer reading program, S.O.A.R., was created to encourage our students to continue learning throughout the summer. It's good for them, and if that's not motivation enough, we sweeten the deal with prizes given out during a special assembly when school is back in session.
HERE'S EVERYTHING YOU NEED TO KNOW TO GET STARTED:
Q: How do I participate in S.O.A.R?
You keep track of how much time your child spends doing learning activities over the summer. We created this chart to help. Then, at the end of the summer, you tally up your child's minutes and fill out this Google form. That's it!
Q: Is reading the only activity that counts?
Nope! Any learning activity counts. If your child loves math, track the time they spend doing multiplication tables. If science is all your kid can think about, count the hours they spend doing experiments. Don't forget: The time you spend reading to your child counts, too.
Q: Do we have to log our reading through the public library?
No. Last year, we partnered with the library on our summer reading program, but this year, it's being handled entirely through the school. All you need to log your summer reading is to fill this reading log!
Q: What kind of prizes are we talking about?
Ah the fun part. Everyone who logs any learning time over the summer will receive a prize at our special assembly on Sept. 13. Those who log the most will be eligible for grand prizes, the details of which we can't divulge just yet but trust us, they're good.
Q: Why is summer reading so important?
Studies show that summer break can set students back two to three months when they head back to school — a phenomenon known as the "summer slide." Engaging in learning activities throughout the summer helps to keep that slide in check, and keep our students moving forward. Plus, reading's just fun.
IMPORTANT DOCUMENTS & LINKS
Printable SOAR Instructions – click here
Printable Reading Log – click here
Log your hours online – coming soon!
QUESTIONS?
Please contact Mary Johnson or Mary Kathryn Elkins.