Thank you for your interest in Eastover Elementary! Please see the following documents for information about Kindergarten and what we love about Eastover.
A Dozen Fun Facts About Eastover
Important Dates and Opportunities
After School Enrichment Program (ASEP) Information
To join our Prospective Parent email list and stay up to date on all upcoming events please click here for the sign up form
2022 Beginner's Day is May 11th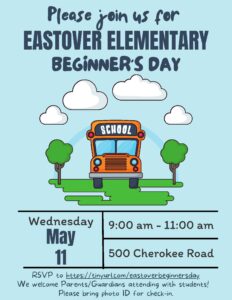 We are thrilled to invite you to Eastover Elementary's Beginner's Day on Wednesday, May 11th from 9am – 11am! We look forward to welcoming you and your incoming kindergartener to Eastover so that they can learn more about the school, meet their kindergarten classmates, and get to know our incredible teachers and staff. It's sure to be a fun day so please sign up in advance at https://tinyurl.com/eastoverbeginnersday. Please be sure to bring your photo ID for check-in. Any questions, please contact Emily Pickens.
Kindergarten Registration
If you are the parent of a rising kindergartner, visit the CMS registration page to learn more about find out what information you need to register your child at Eastover. You can access the registration documents by clicking here. All completed forms and supplementary health forms can be scanned and emailed to p379@cms.k12.nc.us.
Prospective Parents Chair